Jerez (Dry) Test Results:Edit
Jerez hosted the first pre-season test today for the' 'Random Forum Championship Game Season 2.
It was dry and sunny but only 20 of the 28 drivers made the test, with both McLaren's and World Champion Felipe Bomeny notable absences. While the times are mainly irrelevant, Lotuses Franklin topped the timesheets from Sauber's new driver Andae d'Hazorme. The second Lotus of Juho Nykänen went third fastest while Alfie Widger of Spyker was quickest for the new teams in eleventh.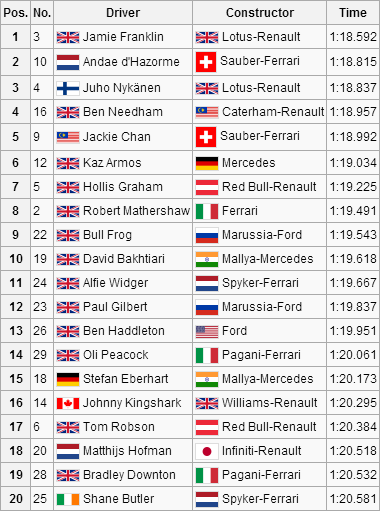 Jerez (Wet) Test Results:Edit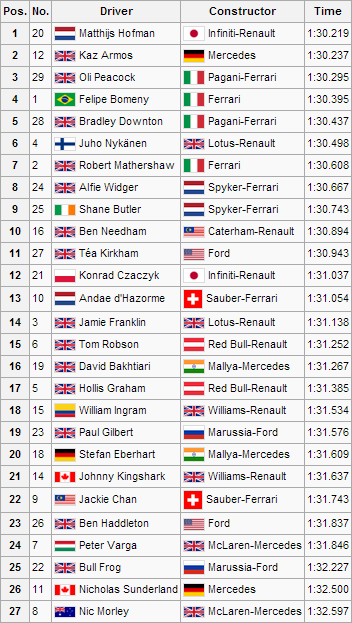 Barcelona (Dry) Test Results:Edit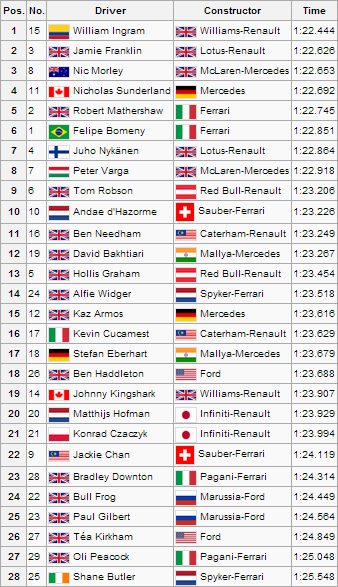 Ad blocker interference detected!
Wikia is a free-to-use site that makes money from advertising. We have a modified experience for viewers using ad blockers

Wikia is not accessible if you've made further modifications. Remove the custom ad blocker rule(s) and the page will load as expected.